In the midst of what was a hip & happening evening at Club Liv in Miami on Sunday night, Teyana Taylor & Stripper were spotted fist fighting! Read what happened inside!





Rapper Hazel-E reached out to TheYBF.com and said that the singer/actress visited King of Diamonds strip club where the stripper Skrawberry works. Skrawberry got jealous that Teyana was receiving all of the attention and allegedly started talking crazy to Teyana.


With performances from Fabolous, Wale, and Mary J Blige with a special Happy Birthday rendition to Queen Latifah, eye witnesses spotted Teyana Taylor and Stripper Skrawberry exchange words. It was stated that Stripper Skrawberry approached Teyana to apologize but when Teyana picked up her drink from the table, Skrawberry sucker punched the girl and all hell broke loose! Ms. Taylor's crew jumped in and Stripper Strawberry Skrawberry was thrown out of the club and that's not even the best part.
An hour or so went by and Ms. Taylor and company were on their way out of Club Liv when Skrawberry's sister jumped Ms.Taylor from behind, yanking on her hair and fight #2 started! The two men that jumped into the fiasco allegedly ended up shattering a window of the club.

And you know there's always subliminal tweeting after event event *rolleyes*...
As reported by NecoleBitchie, Stripper Skrawberry wanted to let the world know that Teyana will get shine off of her if she tells her story. Lol. Here are her tweets below:
One thing bout it. I don't care how many it is. Imma ALWAYS handle mine.

I ain't even have to be around the 2 round for you to get yo sh-t busted in!!!!

Aye them b-tches AND f-ggots just jumped me… Lol. B-tch couldn't even snatch my wig off!!!!

Aye that hoe got her sh-t split doe… She ain't expect that when she walked outside!! I ain't even have to be there. Ion know what happened.

I can't tell the story y'all….. Lol I wish I could!!!! Besides. This b-tch will get celebrity off me #WhoKnowsHer

-Get my followers up….. The b-tch broke so she can't do sh-t else!

Lil are these in denial pics….. Nobody believes you….
Teyana had her own set of tweets as well (along with pics to show that she wasn't hurt in any way):
Hahhahahahahahahahahahaha we bout dat!!

Me at this very moment!! hahaha

Let Us See You're Face. tell me how it feel? #drakevoice hahahahahah

Your * excuse typo but seriously tho. Let's us see.!!!!!
SMH. If someone punched me like how Teyana experienced, I would be pissed and punch the person right back but that doesn't apply to Teyana though. There have been wayyyy too many times I have heard about her terrible diva antics on petty topics that result in her fighting with someone like she's Xena the warrior princess!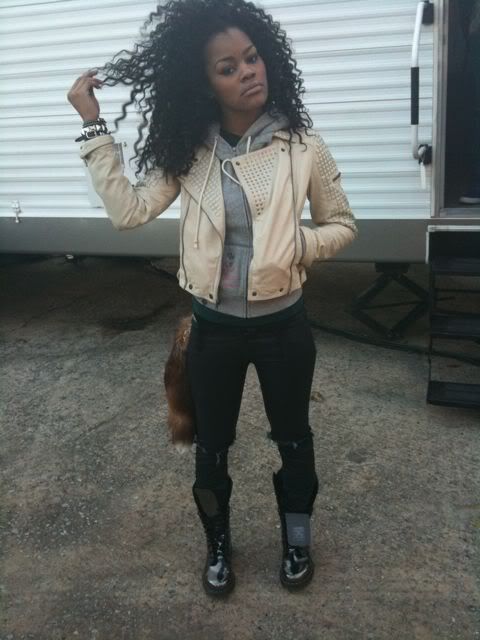 In September 2011, TMZ reported that Teyana was on the movie set of "Gang of Roses 2" filming with director Jean Claude La Marre and got in his face shouting because her pleads to be taken home by car service due to an aching tooth were denied. Jean Claude La Marre allegedly shouted back and next thing you know, her shirt was ripped open, she had a bloody tooth (soar tooth was bleeding due to the scuffle), crew on the movie set had to separate the two, and Teyana didn't get that car service. A scuffle that could of been prevented on both parts (especially with a grown 40-something year old man) but diva antics for car service pretending you done made it like you're Mariah Carey? Umm no.
Shortly after that incident (November 2011 to be exact), Teyana was spotted brawling AGAIN with NBA player Nick Young's girlfriend (of the LA Clippers) at Suppler Club as there were suspicions of those two having more than just a business relationship (whatever that would be). Nick and Teyana were reportedly spending a lot of time together for a period of 3 weeks that lead to the fight between his girlfriend and the singer. Nick had to separate the two and left the party with girlfriend in hand.
I don't even want to get into the time Ms. Taylor fought with a girl over Chris Brown (her "best friend") in April of the same damn year because I'm tired and I'm sure you get the point. There comes a time when you need to stop blaming the people around you and take responsibility for YOUR actions. Don't get me wrong, I am sure that she is a nice and funny girl, as the 21 year old displays her personality every chance that she can get but it's clear that people keep messing with this chick probably due to the fact that her status and presence doesn't hold up to much. That's all I gotta say about THAT!
Obviously these women want their publicity so you can follow both

Teyana

and

Skrawberry

on twitter.