Now that Rhi Rhi's bday is around the corner, she has been confirmed to be London on that day. But that hasn't stopped her from getting cozy with Chris Brown! The 'Umbrella' songstress had an invite only party down in LA. It is reported that Chris Brown was invited and tried his very best to have guests of the party sign confidentiality agreements to hush hush about him being there. Well that didnt happen!
Read what was said about the party after the jump!
Rhianna recieved a cake with mini her laying on top of a joint with red lingerie and black stockings!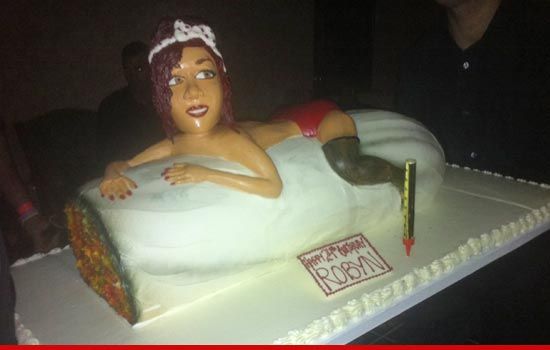 One guest tweeted:
"All I can say, CB was invited and she [Rihanna] was acting like the happiest girl on her birthday and probably got what she asked for."
Another guest also tweeted:
And another:
Ha!
Rhianna and Chris Brown seen leaving the same studio on February 11 separately (@ Niecole Bitchie)
Song producers, Da Internz, said to MTV that the artist that she was going to bring onto the project was going to "shock the world" and it was confirmed on MissInfo that the shocking guest would be Chris. Ha! I wonder what Jayz had to say about this...
I have a theory that Chris Brown and

Karrueche's relationship is just a cover up and that Rhianna and Chris have been seeing each other on the low...its either that or he's cheating. LOL. One thing is for sure, while Karrueche is sitting there on her computer

making fun of Rhianna

, she needs to go check for her man if they ACTUALLY be together. Just saying.
sources: Theybf, HelloBeautiful, TMZ